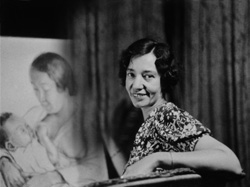 LILY EVERSDIJK SMULDERS
Between 1936 and 1976, the Dutch portrait painter Lily Eversdijk Smulders travelled to the far corners of the globe. This energetic, adventurous woman, motivated by a profound interest in distant peoples and their age-old traditions, made it her life's goal to create a visual overview of humanity on paper.
For forty years, Lily roamed the world with her crayons, pencils and sketchbook, encountering a great variety of ethnic groups, among which she found her models. Her body of work includes more than a thousand life-size portraits of Tibetans, Maasai, Bedouin, Tuareg, Inuit, indigenous people of the Andes and others. Alongside her oil paintings, sketches, lithographs and photos, they form a powerful record of the ways of life she encountered in remote areas – ways of life which have now largely disappeared.
From an early age, Lily was strongly attracted to drawing, but she did not pursue the arts professionally until much later, because her parents forbade it. In the mid-1920s, after obtaining a law degree from Leiden University in the Netherlands, she returned to her country of birth, the Dutch East Indies, where she was one of the first women to become a legal professional in the judicial system.
Five years later, she gave up her career to marry, but that relationship did not last. When it ended, Lily was thirty-three years old and decided to devote the rest of her life to art. She studied with the Dutch painter Carel Dake on the island of Bali, producing her first drawings under his supervision. After several months of lessons, she was ready to venture into the world.
She spent the years before the Second World War drawing and sketching in Japan, Korea, China, Hong Kong, Indochina and Siam. As a Westerner travelling alone and making sketches, with the threat of war looming everywhere, she was suspected of espionage more than once, and was detained and interrogated by the Japanese authorities. Nevertheless, she went on drawing and improving her technique. The first exhibition of her work took place in 1938 at the Peking Institute of Fine Arts.
When the Second World War broke out, Lily was in the Netherlands, and the German occupation made it impossible for her to travel. She took lessons from the well-known painter Jan Franken in The Hague, who taught her to work in oils. She also very soon joined the resistance. After the country was liberated, it took several years before she could resume her travels.
In 1948, she set off for Morocco – her first venture into the African continent, to which she returned many times. She first travelled in North Africa and Egypt, and later in Central and East Africa and Ethiopia.
Between trips, she returned to the Netherlands, where she was often pressed for time. Her profound interest in anthropology, history and religion had turned her journeys into a true quest for knowledge, which she wanted to share with the broadest possible audience. She gave talks with slideshows throughout the Netherlands, contributed to newspapers and magazines, and was a frequent guest on Radio Volksuniversiteit, radio programmes for an adult education institute. At the same time, she gave painting lessons at her home studio in Amsterdam. Later, she wrote six books about her travels.
After exploring large parts of North Africa, Lily went ever further east, to Lebanon, Syria, Jordan, Israel, Iraq and India. She was deeply impressed by India and returned there seven times. In the 1950s, she also visited the neighbouring countries of Pakistan, Afghanistan and Iran.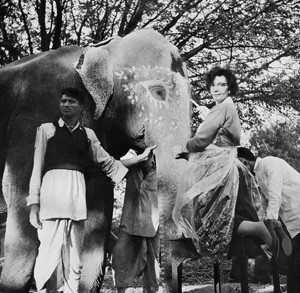 In March 1959, Lily took her first trip to Nepal, where she wrote, 'In truth, what fascinated me there most of all was a country that I have never visited and now surely never will visit: Tibet.' It was the exact month in which the Dalai Lama fled China's growing oppression of his country and found temporary refuge in northern India. Countless Tibetans followed his example, many ending up in Nepal. Lily spent a good deal of time among them in Bodhnath, near Kathmandu, developing great interest in them and sympathy for their situation. Her portraits of Tibetans in Nepal are among the finest in her oeuvre.
Well into her later years, Lily continued to travel, draw and write. In 1977, her eyesight suddenly began deteriorating at a rapid pace, and she was forced to stop drawing and travelling. A major retrospective exhibition in 1990 at the Museon in The Hague was a high point of her career. Lily Eversdijk Smulders died in Amsterdam in 1994, at the age of ninety.