Copyright © 2015/2023 stichtinglily.nl
2013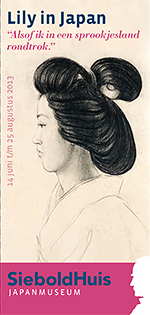 Sieboldhuis Leiden
Lily in Japan
14 juni t/m 25 augustus 2013
The Siebold Huis in Leiden will exhibit 15 Japanese portraits by Lily, together with various items she brought back from her stay in Japan in 1937. The Lily exhibition will coincide with the exhibition `Het snoer der ontferming, Louis Couperus in Japan.' (`the Chain of Mercy, Louis Couperus in Japan') at the Siebold Huis. The Dutch writer, Louis Couperus (1863-1923) and Lily Eversdijk Smulders (1903-1994) spent half a year in pre-WW II Japan: Lily visited Japan 15 years later than Couperus, but both of them were in Japan from early spring until late October.
2008-2010

Museum Volkenkunde, Leiden
until october 2010
In conjunction with the major exhibition THE BIG THAW, portraits of Lily Eversdijk Smulders of Canadian Inuit will be on display this summer.
2003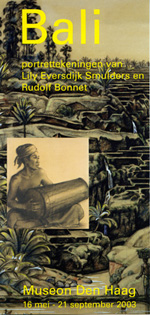 Museon Den Haag
'Bali: Portraits by Lily Eversdijk Smulders & Rudolf Bonnet'
16 May to 21 September 2003
In the 1930s, Lily Eversdijk Smulders and Rudolf Bonnet were both part of Bali's community of artists. Their working methods show striking similarities, which formed the reason for this combined exhibition, along with the fact that 20 June 2003 was the hundredth anniversary of Lily's birth.
(Guest curator: Cassandra Carmio.)
2002
Archives Départementales, Digne-les-Bains, France
Le Tour du Monde en 80 Portraits (Around the World in 80 Portraits)
5 July to 28 September 2002
A wide selection from Lily's entire oeuvre.
2002
Museon Den Haag
'HAAR tentoonstelling (HAIR Exhibition)'
This exhibition included 18 of Lily's portraits with unusual hairstyles.
1998
Musée Alexandra David-Néel, Digne-les-Bains, France
36 portraits of Tibetans
Summer 1998
Exposition Lily Eversdijk Smulders.
1997-99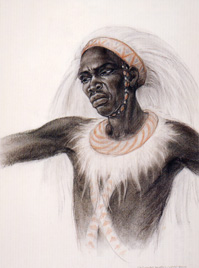 Afrika Museum, Berg en Dal
Tussen Tutsi, Turkana en Tuareg (Among Tutsi, Turkana and Tuareg)
14 December 1997 to 1 March 1999 (extended)
An exhibition devoted to Lily's African travels and drawings, with seventy of her African portraits alongside objects from the museum's collection. This exhibition coincided with the publication of the book of the same name (Tussen Tutsi, Turkana en Tuareg) by Ella Andriesse, which describes Lily's African travels in detail.
1993-94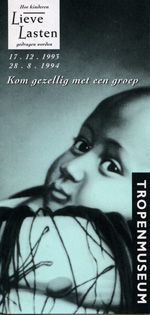 Tropenmuseum, Amsterdam
Lieve lasten, hoe kinderen gedragen worden (Sweet Burdens: How Children are Carried)
17 December 1993 to 28 August 1994
This exhibition included nine portraits of mothers and children drawn by Lily.
1990
Museon, The Hague
Een Passie voor Verre Volken, portretkunst van Lily Eversdijk Smulders (A Passion for Distant Peoples: The Portraiture of Lily Eversdijk Smulders)
29 June to 26 August 1990
A major retrospective exhibition of Lily's entire oeuvre. She herself was present at the opening. This exhibition also travelled to the ethnological museum in Groningen.
1986
National Museum of Ethnology, Leiden
Portretten van Tibetaanse Lama's (Portraits of Tibetan Lamas)
A series of portraits, accompanied by objects from the museum's collection. The exhibition was opened by His Holiness the Dalai Lama.